(Unfortunately, due to the concert not being broadcast here in the UK, I have yet to see the live performance of this track, so this review is based purely on the sound of the track, not its live performance.)

On 11.12.01 a-ha performed at the 100th anniversary of the Nobel Peace Prize concert in the Oslo Spektrum. The two songs performed were 'Differences' and the ever popular 'Hunting High & Low'.

Since hearing the new song I have read many comments on it some good and some bad, so here are my feelings on what the song brought me.

The song starts in a simple, unconfused way and this lasts throughout the song. It is a simple melody and a special song, for a special event and that event only.

One opinion I read was : Good poem, boring piece of music.

Yes, this is not a number one single (but please remember that it was never planned to be a single) and yes perhaps its not the a-ha we know (or thought we knew) its does not rock like 'MinorEarth/Major Sky', its not a romantic ballad like 'Hunting High & Low', but what it does do is reach deeper than these songs, it makes you think and think of others in this World today. 'Differences' is a moving song, a song that can reach you on more than one level. I cannot say that it fails as a song.. as a hit single yes, but not as a song.

The main thing we have to remember is where the song was performed and what the Nobel Peace Prize concert was all about hope and peace, and I personally think that this song fits that bill. IT WAS a song that spoke of hope, the haunting lyrics echoed this. It is melancholy and perfect for its simplicity. It did not need a chorus to bring it together it did not need power or lots of extras the acoustic and orchestral performance of such a beautiful track teamed with the perfect voice is all it needed and this is what it had.

Congratulations and thank you a-ha a perfect song for such an occasion and performed so hauntingly clear and with such evident feeling and concern for the World today.

Review written by Sue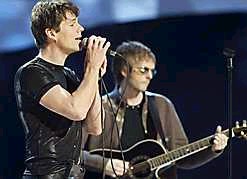 'Differences'

Raise your voice
Give us hope
Make us whole
Save our souls
We have failed so many times
Our attempts in steep decline
Promises we could not keep
Differences that run too deep

We're afraid
of ourselves
For a while
Keep us safe
Love is such a big idea
If you don't see it, how can we?
Promises we could not keep
Differences that run too deep

Show the way
Lead us home
We are lost
Give us hope